It is kindly informed you that our company and factory will be closed for the Chinese Spring Festival from Jan 29 to Feb 13, 2022, and we will be back to work on Feb 14, 2022. Please help to pre-arrange your requirements in advance and we'll try our best to keep providing remote technical problem support during the holidays.We are sorry for any inconvenience it may occur and thank you for your understanding. At the early of the year 2022, we would like to express our best wishes and thankfulness for your great support and cooperation in the past year..
JL8010 Series Banknote Sorting and Strapping Machine 7+1
With reliable cash processing performance, advanced banknote counterfeit recognition technology and our comprehensive and professional cash management system, JL8010 is designed for cash center of CIT company and back to improve banknote sorting and binding efficiency, and optimize cash processing flow with more higher security.
The JL8010 Series offer 2 configurations to suit banknote processing requirement.
Highlights
Mechanical Innovation
Optimum User Experience
Detail Oriented
Supper Capacity Hopper
Advanced Technology Enables A Traceable Banknote
Technical Specification
Capacity:
Hopper: 1000 notes
NV Technology:
CIS, UV, Magnetic, IR
Speed Range:
Counting: 1200 notes/min
Sorting: 1000 notes/min
Serial Number Reading: 1000 notes/min
Binding: 8.5 binds/min
Banknote Size Range:
Width: 62-82mm, Length: 120-167mm
Width of Binding:
20mm 40mm
Display:
9.7″ TFT Color Display
Connectivity:
USB, LAN, RS232
Operating System:
LINUX
Power Supply:
198-240V 50/60Hz
Power Consumption:
500W
Rated Current:
3.5A
Certification:
CQC RoHS CE ECB
Accessories:
Additional Currencies, Remote Display, Integral Printer, Clearance Program, Serial Number Printing.
Support Currencies:
CNY EUR INR SAR AED BUK GHC TZS
Remarkable Features of Our Products
All-in-one cash processing equipment increases your ROI.
Custom Configurations for Your Real Needs
From the beginning of the consultation, we will have a detailed understanding of the site layout and staffing. We provide 4 configurations and custom solutions according to the actual application scenario to meet the workflow and requirements. We are dedicated to helping maximize cash processing efficiency.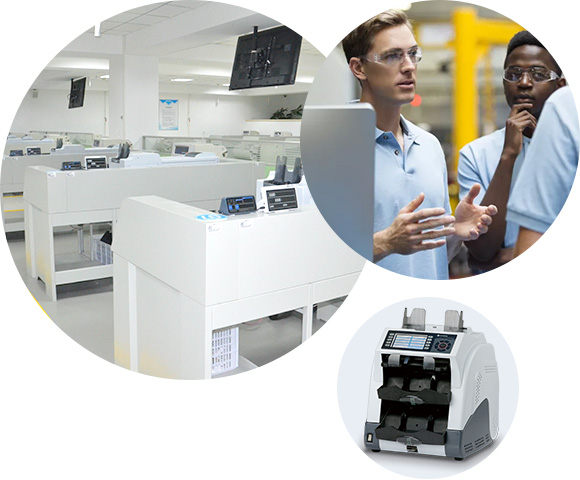 Need a Smart and Reliable Cash Processing Solution?
We've Got You Covered.