It is kindly informed you that our company and factory will be closed for the Chinese Spring Festival from Jan 29 to Feb 13, 2022, and we will be back to work on Feb 14, 2022. Please help to pre-arrange your requirements in advance and we'll try our best to keep providing remote technical problem support during the holidays.We are sorry for any inconvenience it may occur and thank you for your understanding. At the early of the year 2022, we would like to express our best wishes and thankfulness for your great support and cooperation in the past year..
Strong Brand

You Can Trust

Backed by our talented engineers, Julong has owned 195 patents and 32 software copyrights. We are also the first high-tech financial enterprise passed test of European Central Bank (ECB) in China.

You can rest assured that you can get quality equipment and solutions to improve your cash processing efficiency by working with us. For more certificate details, please feel free to contact us​.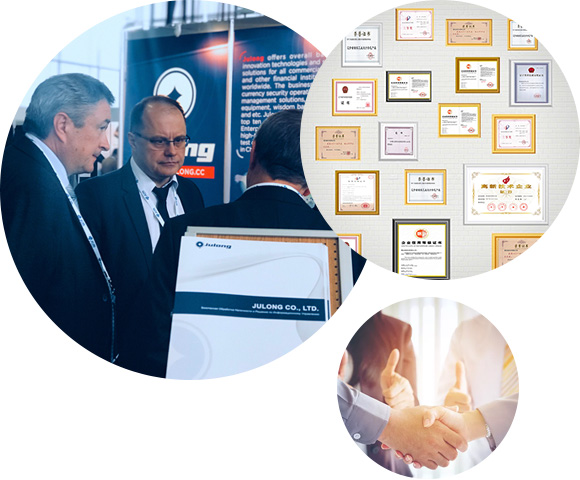 We Do Not Rest on Our Laurels, Never.
Patent Certificates
Factory Certificates
Honorary Title
Patent of Serial Number Identification and System

Patent of Banknote Management Method and System

Patent of Image Detection Device
Certificate of Occupational Health and Safety Management System

Certificate of Information Security Management System

Certificate of Quality Management System
Certificate of Capability Maturity Model Intergration Level 5

Certificate of Enterprise Credit Grade AAA

Certificate of China Excellent Industrial Design
Need a Smart and Reliable Cash Processing Solution?
We've Got You Covered.